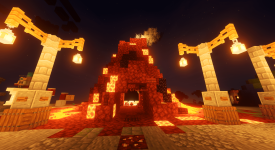 Hey, SMPEarth!
First, we wanted to apologise for not being able to deliver the updates as promised. Many things happened in the back end, which caused a couple of issues with the server. But you guys have remained patient, so we want to thank you all for being incredible!
We are currently working on a few minor updates and bug fixes. Unfortunately, we will have to pause Weekly and Daily challenges to focus on this. But don't worry, we will work hard to bring them back soon! We appreciate you guys a lot. This server wouldn't be here today if it weren't for all of you! So once again,
thank you!
Now that's out of the way;
NOVEMBER SERVER UPDATES
!
The Carnival is over, and The Original Crucible returns. Hop in and discover what lies deep in the volcano; get your best gear ready... you'll need it.
Item Displays have returned to the Builder!
Brand new store cosmetics have been added, with this month's theme being: **Player's Suggestions**! We have the Bestie, Synthwave, and Duck suffixes! We also have the "Milk log message" and "Are you serious right neow bro?" chat spam!
Suffix Pack 2 has also returned with fan favourites such as Nerd and Gae!
The Spooky Pack remains in the store until the weekend, so be sure to use your coupon from the dailies!
Bug fixes; Bankrupt towns not falling on Siege and the Spawn Portals disappearing!
Also, check out the Crucible showcase video that our friend, Ryan, from the Social Media Team, has made for us on our TikTok!
https://vt.tiktok.com/ZSRn7a8CA/
Aaaand, check out our funny YouTube channel; we have a channel handle now!
See you on the server!
The SMPEarth Team.